I love road tripping the United States. I've been doing it for twelve years now and I never want to stop! I've learned a lot over the years and I've compiled all of it here in this post to show you how to budget and plan your perfect U.S. road trip.
There's really nothing like taking to the highways with the wind in your hair and your favorite song playing on the radio. I live for this feeling!
In the last 12 years, I've driven through 37 of our 50 states. The things that strike me the most are how different (and amazing) the states and the people are, how absolutely gorgeous our landscapes can be, and how I never run out of things to do.
You don't have to fly around the world and stay in 5-star hotels to have an amazing travel experience – that's really not attainable for a lot of people. Definitely not for me.
So, let's explore in our own backyard – what do you say? Get a notebook ready and let's start planning your ultimate U.S. adventure!
This post may include affiliate links. That means if you click that link and make a purchase, I'll earn a small commission at no extra cost to you. You can read more about that here.
Figuring out your time frame.
All right, here we go! The first thing we need to figure out is what kind of timeline we're looking at.
How long will you be able to travel for?
Do you only have a week's vacation?
Are you taking a long weekend?
Looking to explore over summer break?
Thinking about becoming a digital nomad?
I've done a 7-day, 2,000-mile road trip where we were able to fit in a bunch of destinations (though that kind of trip might be tiring for some) and I've also spent an entire long weekend exploring a single destination.
Some tips for time:

– Driving at night or early really early in the morning can help you avoid traffic on weekdays. I often leave around 3 a.m.
– When taking a longer trip (like the one I mentioned above), keep the driving time short between destinations to allow for more fun!
Maybe you'll need a day to recuperate from your trip before heading back into work. Take all of this into consideration when figuring out how much time you can really spend on your U.S. road trip.
To help give you a visual of how I plan, I'll use my 7-day, 2,000-mile road trip as an example in this post.
Check out this guide for budgeting and planning your perfect U.S. road trip. #usatravel #usroadtrip
Click To Tweet
Selecting your ultimate road trip destination.
Usually when planning a road trip, I have at least one place in mind that I NEED to see.
For me, it was New Orleans.
If you're taking a long trip, say Philadelphia to New Orleans, you can enter that route into your Roadtrippers app (or their website) and select your preferred destinations to see what other fun can be found along your route.
Use the categories on the left to select the types of places you'd like to see along your route. You have SO many different options. They'll pop up on the map around your route and you'll be able to click through them and get to know each place before adding it to your itinerary.
You could even do this on Google maps if you wanted to. Let it calculate the fastest route to your ultimate destination based on your specifications (avoiding tolls or highways, etc.), and then write down some cities that you'll be passing through along the way.
Filling in your itinerary.
Once you know the cities along the way, start filling in fun destinations around them. With the Roadtrippers app, you can find hiking trails, museums, offbeat destinations, roadside attractions, and more. I've also used Google and Pinterest to look for activities in certain cities and towns.
Check for deals on tours and attractions.
Once you figure out the kinds of places you're interested in seeing, definitely take some time to check out Groupon and Viator.
If you'll be doing a lot of museums or tourist sites, check out CityPass. They combine the admission costs of several sites in a lot of major U.S. cities into a single ticket, saving you up to 50%.
---
Calculate your road trip budget.
Here comes the hard part.
Generally, I set aside a few hundred dollars that I know I can save up just from my paychecks. For this example, let's say I'm working with a budget of $500. I know this will cover all of the necessities of my trip.
Split your budget into three sections.
You'll need to take that amount of money you've budgeted and break it into three very important parts.
Fuel (or Transportation)
First, you'll need to determine how much money you need to save for fuel. This is the FIRST thing I determine after I set my budget because I believe it is the MOST important factor in planning your road trip.
You can always find a cheaper place to sleep, but if you run out of gas in the middle of nowhere, you're screwed.
Things to figure out: how many miles can your car travel on one tank of gas? About how many miles will you be traveling on your trip?
Your #roadtrip budget should always include these three VERY important categories… #usatravel
Click To Tweet
Let's use my trip as an example:
So, on my 7-day, 2,000-mile road trip, I traveled around in a little Ford Focus. I knew my car could travel about 300 miles on an 11-gallon tank of gas, so I would end up having to fill my tank about 7 times. I like to round up an extra tank, just in case.
11 gallons x $3/gallon = $33 per fill up
$33 x 8 fill ups = $264 for my fuel budget.
This will obviously fluctuate based on your own gas mileage and the cost of gas whenever you're reading this (because that is a roller coaster I can't keep up with.)
Accommodations
Those fuel costs really took a chunk out of our overall trip budget. We've got about $236 left.
At this point, you can decide whether to cut down on the actual distance you'll be traveling, or get creative with ways to save money. This includes saving a ton of money on where you'll be sleeping at night.
Saving Tip:

Bring a friend – splitting the cost of travel can help you go so much farther!
I personally enjoy camping and meeting people, so I don't really spend a ton on accommodation.
On my seven-day trip, I ended up camping for 3 nights, renting a hotel for 3 nights (one of these nights was an emergency stay so this went on a credit card and did not come out of my budget), and staying at my friend's dad's house for an extra night.
We'll talk more about ways to save on accommodations further down in this post, so keep reading!
---
Itinerary
The remainder of your budget can be spent on fun – food, tours, admission prices, and whatever else you chose to do when you were planning out your itinerary.
I add food in here because I really don't place much emphasis on food. I use the small budget that I would have used to stock my fridge at home, and instead use it to buy non-perishables to take on the road. I'll talk more about saving on food further on in this post…
I also like to save up a separate little pocket of play money.
My play money will cover things like going out to eat, buying souvenirs (you can never have too many bumper stickers, am I right?), and anything else that feels kind of frivolous. I don't include this in my set road trip budget and the amount I'm able to gather up varies from trip to trip.
Don't have a car? No problem!
If you have a car of your own, feel free to skip this section. If you don't have your own car (or maybe it's not capable of long distance travel), but you're also not interested in flying – this is the section for you!
You have a lot of options!
Take a bus – I've taken many Greyhound buses. While they're typically crowded and carry very interesting characters, they'll get you where you need to go. My husband and I also took a Megabus trip from Philadelphia to Washington D.C. for our honeymoon. Check out Greyhound's site. Philly>Tampa approx $160.
Take a train – Growing up around Philadelphia, we used to take the train everywhere. If you live near a big train station (or have a bus that will get you to one), you can catch a ride all over the country. Taking a train will be more expensive, but it will also be a lot faster and they generally have more comfortable seating. Philly>Tampa approx $150+
Rent a car – our car decided to up and die in the middle of our cross-country move to Texas. So, for my upcoming road trip, I'll be renting from Enterprise. I like the freedom of being able to stop wherever I want.
Renting a car is ideal for freedom of travel and custom itinerary, but on top of rental cost, fees, and possible few hundred dollar hold on a credit card – you'll still have to pay for gas. Weigh your options and do some research!
Let's figure out where you're sleeping.
Finding accommodation is the second most important part of your road trip planning. Where the heck are you going to lay your head at night?
We'll go through some free options, some discounted options, and then the full-on hotel bookings. I'm partial to spending as little as I can to go as far as I can, but I understand that not everyone shares that mindset!
If hotels are your thing, find a way to save on other parts of your budget in order to afford them.
Free Stays
Who doesn't love to stay for free? This will free up so much fun money so you can experience more. Here are a few free options:
My #1 recommendation for the open-minded is Couchsurfing. It's just like it sounds. Log in, create a profile, get verified, and search through a database of people opening their homes to travelers.
Kind of like Airbnb, except you stay alongside the homeowner (sometimes). The whole point of it is to bring people together – to develop community. You stay with locals, share stories and get to know each other, and they can show you around their city. Now, you don't have to hang out with them. You could just sleep on their couch and call it a day.
I had a friend who used Couchsurfing to stay with a lovely family in Ireland and I've known others who used it to find couches to crash on during extended road trips. I've used the message boards to find travel buddies for road trips. Whatever you choose to use it for, it's 110% worth checking out.
Boondocking/Free Camping – If you're in an RV or campervan, you're in better luck. Walmart, Cracker Barrel, Truck Stops, and some camping stores allow overnight camping. If you're in a car and bring a tent, you can find tons of public land to camp on – check out this awesome resource for finding free camping.
Workaway and WWOOFing – These options are a little different, but are still awesome ways to explore a place for an extended period. Workaway is kind of a work exchange program – on a farm, in a hostel, and various other projects. You'll volunteer a few hours of work in exchange for a place to stay. Some jobs pay and each job is different. WWOOFing (Worldwide Opportunities on Organic Farms) is exactly what it sounds like – volunteer some time helping organic farmers across the country in exchange for room and meals.
---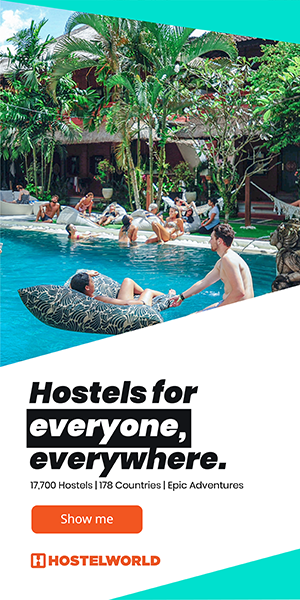 Cheap Stays
The following options will save you some money, but could add up if you're looking into a long-term trip.
Book a hostel – If your only idea of a hostel is that super awful scary movie that came out a few years ago, then you're dead wrong (heh, see what I did there)! Check out HostelWorld and I think you'll be surprised how many cheap rooms you can find.
Hostels are instant community. You reserve a bed in a shared dormitory (or rent a private room – those exist), but you share the property with other travelers. There are shared bathrooms and eating spaces. It's a really cool way to meet new people from all over who are exploring the same cool place that you are.
Each hostel is different – some are themed, some have fun events for its guests like happy hours or pizza nights. For $20-$40/ night, it can't be beat.
---
Hotels and rented rooms
If you're not into sleeping outdoors or getting comfy with strangers, then that's okay! There's nothing wrong with wanting to stay in a hotel while you travel. There are a lot of methods you can use to find a good deal on a hotel or rental.
I've definitely gotten too tired on a drive, pulled off on the closest highway exit, and walked into the first roadside motel that popped up. I've called ahead from the highway, trying to negotiate a good deal with any hotels I could find on my phone. Sometimes it's nice to book a hotel room in the middle of your trip to clean up from a few days of camping. I'm not judging! Let's talk about rentals…
Nowadays, we book everything online.
If you're an outgoing person, you can call hotels directly and negotiate a better deal. That's not really my cup of tea (anxiety problems!), so I use online comparison sites.
Booking.com – From hotels and apartments to car rentals and flights, you can find it through booking.com.
Airbnb – I LOVE Airbnb, the rental site that let's you book homestays. You rent a whole house or a room in someone's home (like a B&B), or their in-law suites. I stayed for the first time in Gettysburg, PA and I was absolutely blown away by the property and the owner's hospitality. Can't wait to use it again.
Homeaway– Homeaway is a vacation rental website that let's you book an entire house for your trip, so you won't have to share with anyone and can enjoy some privacy.
Finding things to do on your road trip.
What activities are most important to you? Are you a foodie, wanting to try the best restaurants in the hippest cities? Do you revel in the beauty of the outdoors? Are you into adventure and need to find an adrenaline rush wherever you go?
Once you figure out the things that will make your trip more memorable for YOU, it'll be easier to find activities in your destination.
Sure, New Orleans is known for Bourbon Street, but if you don't drink and you hate live music (I don't know who this could possibly be describing, but it's my best example – go with it), then don't feel like you'll be missing out if you skip that stop.
New Orleans also has amazing restaurants, unique historical tours, and a super cool WWII museum.
Fun for free!
Blown your budget on gas and hotel and don't have much left for fun? No problem.
I have to be honest, most of my budget is gone after fuel, food, and accommodation. I don't spend a lot of money on activities.
Here are a few free things I love to do:
Hike. I love to be outside. I'll find local parks (most of my stops are National Parks anyways) and go for a hike.
Window shopping. Whether it's antiquing in Lancaster or casually strolling the streets of Galveston, I love to just slowly walk the streets of the cities I visit. I'm fascinated by architecture, street art, people watching, and historical markers.
Free days at museums. It pays to look ahead. A lot of museums have free admission days or 'donation only' days.
Use the Meetups app or Couchsurfing site to meet up with locals for random activities. I've attended Indian food parties, board game nights, and writing meetups. All of these were a great time.
Let's discuss food.
I know it's so tempting to want to grab fast food on the road or eat at delicious local restaurants, but that shit ADDS UP QUICK.
If you budget for that because it's what brings you the most joy, that's great! Definitely do that.
But I'm vegan. So, it's pretty hard to find things that I can eat everywhere I go and most local cuisines are pretty much out of the question.
So, if you're like me and food isn't really what you're traveling for, there are lots of ways to save.
Bring your own
Like I said before, I'll take the grocery budget that I was going to fill my home fridge with and put it toward buying non-perishables:
canned beans
canned veggies
canned soup
nuts & seeds
CLIF or KIND bars
tortillas
bread
peanut butter & jelly
rice cakes, chips, and other road snacks
Buy fresh on the road
Visit local grocery stores or use the FoodTripping app to find farmer's markets and healthy food stores in the area. Pack a camp stove and cook your meals at your campsite.
Try local restaurants
If restaurants are your thing, eat local. Avoid chains and really get the flavor and love that's put into a local cuisine. Support local businesses as often as you can.
Road Trip Safety Tips
Staying safe is important for enjoying your trip. From staying safe on the road to staying safe where you sleep, it's important to follow the laws and be courteous wherever you're traveling.
Take care of your vehicle
Keep an eye on your tire pressure – this helps with SO many things, including gas mileage! I use this little device before I leave for a long drive – then go to a local gas station to fill up if needed.
Keep up with regular oil changes.
Check tire tread. Seriously…keep an eye on this. My tires got worn down so badly at one point, I couldn't do anything over 40 MPH on the highway in the rain – this pissed a lot of people off.
Make sure you have 24/7 roadside assistance. THIS HAS SAVED ME SO MANY TIMES. SO MANY. I have roadside assistance through my insurance with USAA. Call your car insurance company to see if you're covered or look into AAA.
Lock your car when leaving it unattended. You'd be surprised how many people don't do this. Put any phones, money, GPS units, and expensive belongings away and out of sight. The only thing I like to have visible is my drink cooler in the back seat. I will shove everything else into my trunk – even if I have to jump on top of the trunk to close it.
Follow the speed limits. Not only will this help with gas mileage – it will also help to keep you and everyone else safe. Also – speeding tickets can cost a pretty penny, NOT worth it. We're on a road trip to enjoy the views, so don't rush through them.
If you have to sleep in your car, don't just do it anywhere. Truck stops offer free overnight parking, as does Walmart. Try to stay somewhere with some kind of civilization. Stay safe, ya'll.
Stay safe at the parks
Make sure someone knows where you are. Maybe I'm paranoid as a woman, but I always text my mom and tell her where I'm staying. I'll tell her the name of the park and the space number when I'm camping, and then I'll text her when I'm back on the road. You can also leave a detailed itinerary with someone if you've got it all planned out.
Keep your campfires where they belong and put them out before you go to bed. I can't stress this enough. Only you can prevent forest fires.
Pack your food away in your car at night. Or store it safely while following park rules. Bears and other wildlife are no joke – they'll come looking for it!
Stay safe in the city
I grew up in Philadelphia and I think the years of my elders telling me ways to stay safe has made me completely paranoid, but…
If you're carrying cash, don't keep it all in one place. Split it between people or between your purse, pockets, and bra – but don't carry a bank envelope with a wad of cash.
If you're using a debit card, make sure you call your bank and let them know you'll be traveling. I used to work in banking, or I never would have known to do this. With all of the fraud going on these days, banks might cut your card off if they see purchases that aren't normal for your shopping behavior – like a different location.
I like to carry a backpack or cross-body purse. Again, paranoia.
Stay aware of your surroundings. This goes for a lot of things. If you're walking and stop to take a picture, make sure you're not blocking traffic first (yeah, I've done this). Be aware and courteous of the people around you.
The Wrap-Up!
I know that was a bit of a downer in the end there – who wants to think about rules and safety when you're planning the trip of a lifetime?! haha But it's an important part of traveling whether that's in the U.S. or around the world.
I hope this gave you some insight into how I plan my trips and maybe helped you with some guidance to plan your own!
I love love LOVE road tripping the United States. There is so much beauty in the landscape, the history, and the wonderful people that exist here.
Did I miss anything? Comment below with any questions or suggestions!